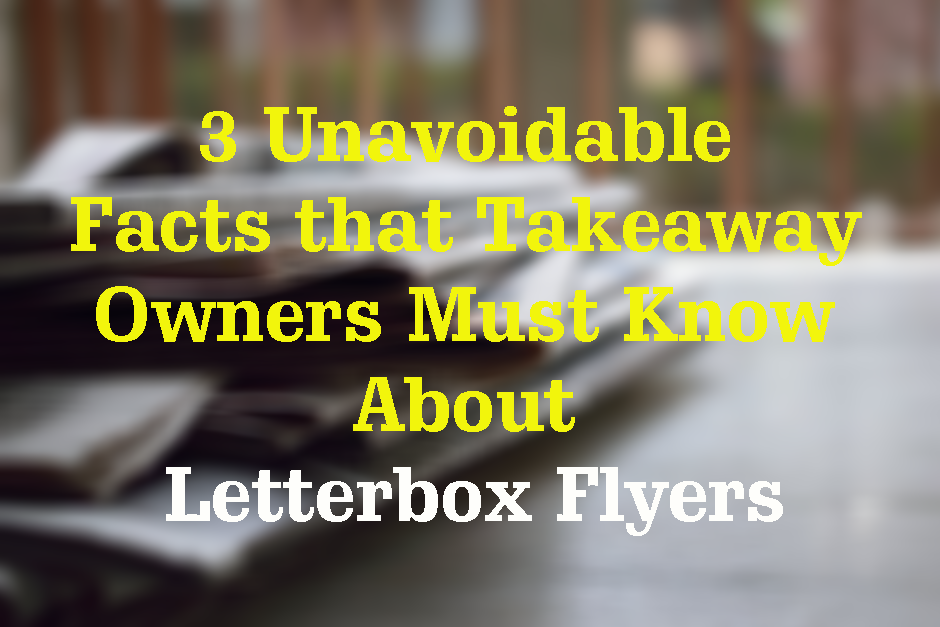 If you are a fast food or a takeaway business owner, you simply cannot avoid flyer distribution in Sydney or other forms of letterbox advertising. Wondering why? Here are three compelling facts that necessitate a well-developed letterbox strategy for your business.
Unaddressed flyers do click with fast food customers
Statistics show that around 7.5 million unaddressed mail and catalogue readers go to Australian fast food outlets every month. This means that going for coupon delivery, takeaway menu dropping or flyer distribution in households and offices can bring in great success for your business. A survey conducted by Roy Morgan revealed that people going through unaddressed mails are more inclined to go to fast food outlets that those who are mainly exposed to other forms of advertising such as television, radio, internet or newspapers.
Apart from these people, there are those who prefer eating on the go. So, it can be well understood that capturing the letterbox media through campaigns like flyer distribution can take your takeaway business to newer heights. To make the most of this form of advertising, contact an expert agency which will help you in identifying the target market and create the distribution map accordingly.
A large number of fast food customers respond to offers presented through direct mails
It goes without saying that your takeaway business must entice customers in order to grow. Given this, direct mails in the form of flyers or menus have proven to yield more powerful results compared to other forms of advertising. In fact, offers delivered through television, newspaper or magazine or those communicated via telephone sales do not have as must effect as those presented in flyers and other direct mailers. So, if your goal is to trigger sales and boost revenue for your takeaway business, direct mail can indeed make your cash registers ring.
For driving sales in the proper manner, you must include a strong call to action in your letterbox flyer, so that your flyer distribution campaign is an impactful one. Use power-packed words like 'Order now!', 'Call us today!', and so on. These can successfully create a sense of urgency.
Fast food customers notice catalogue or flyer ads more than ads in other media
You must keep this important fact in mind if you want to make a mark in the minds of your target audience. Try placing the same ad in magazines, over the internet or in unaddressed mail. You will find that the ad placed in the unaddressed mail generates the maximum amount of response. Once your flyer distribution campaign is successful and people notice your ad, a lucrative offer combined with a powerful call to action is enough to prompt your customers to call you and place their orders. But you must ensure that the flyer design stands out since there are only a few seconds at your disposal to create the right impression.
As you develop a local marketing strategy for your takeaway or fast food business, make sure that flyer distribution is one of your top priorities. It's not only affordable, but when conducted professionally, can perhaps give you the best return on your investment.
Make your flyers more professionals to the visitors